Back

All Products

LoRaWAN Gateways

Outdoor LoRaWAN gateways for the best possible LoRa coverage. Our range includes Tektelic's carrier-grade Macro, low-cost The Things Outdoor Gateway and the easily-installed LORIX One.

Indoor LoRaWAN gateways for quick and easy LoRa coverage. Our range includes the super-low-cost Things Indoor Gateway, Tektelic's Micro with 4G option, and Micro-Lite.

Dev Tools

LoRaWAN development boards, including the Things Uno and Pi Supply Raspberry Pi, Arduino and micro:bit shields and HATs.

We also stock Otii by Qoitech, a great development tool for low-power hardware development.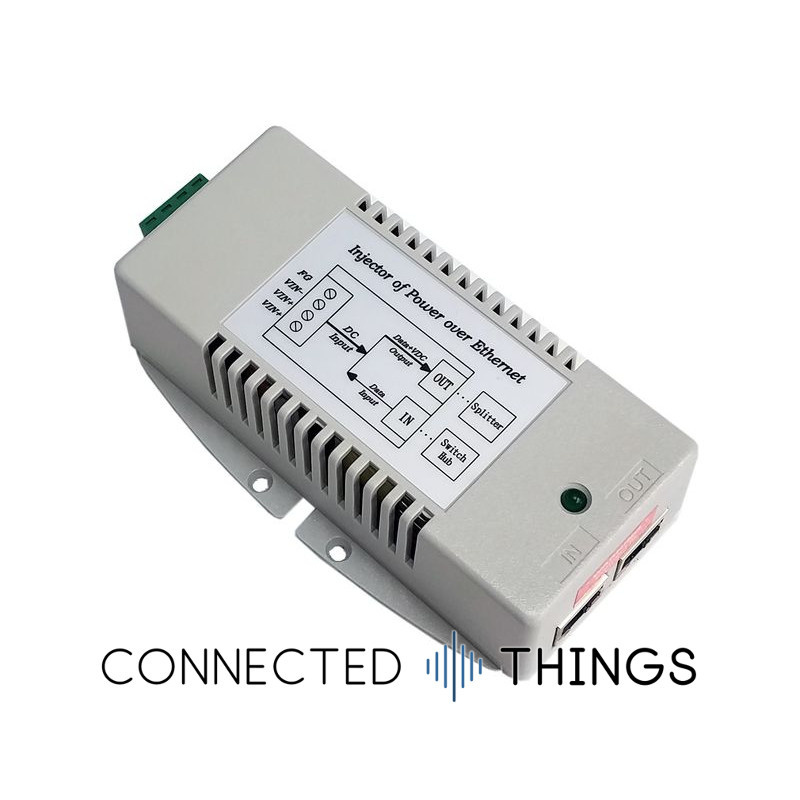  
Tycon Power Systems 12V 802.3af/at PoE Injector

We deliver globally via FedEx
The Tycon Power TP-DCDC-1248GD-HP is a low cost and high efficiency solution for those requiring IEEE802.3af and IEEE802.3at Power over Ethernet from a 12VDC voltage source like a solar battery system or vehicle. The injector has an integrated DC/DC converter to boost the input voltage to 56V output for standard 802.3af/at devices, like our Things Outdoor Gateways, via standard CAT5/6 Ethernet cable.
The output voltage is regulated and protected and there two inputs for connecting two power sources, such as a primary 12V mains supply with a backup power source.
The injector accepts gigabit data-in to a shielded RJ45 Jack and provide gigabit data-out and PoE power on the shielded RJ45 output jack. They have various protections for surge, short circuit and overload and can power loads up to 35W.
Features
Input Voltage 12VDC (Range 10-15VDC)
IEEE 802.3af/at Compliant Output 56VDC
Dual Inputs for Connecting two Power Sources
Integrated 10/100/1000M PoE Injector
High Power up to 35W
Low Self Consumption Power
Short Circuit, Over Current and Reverse/Over Voltage Protect
High Temperature Operation
Compact Size – Maximise Available Space
I.T.E. Power Supply, UL Listed
Dimensions: 85 x 76 x 36mm (3.4 x 3 x 1.4in)
Weight: 134g (4.7oz)