Späť

Produkty

LoRaWAN Gateways

Outdoor LoRaWAN gateways for the best possible LoRa coverage. Our range includes Tektelic's carrier-grade Macro, low-cost The Things Outdoor Gateway and the easily-installed LORIX One.

Indoor LoRaWAN gateways for quick and easy LoRa coverage. Our range includes the super-low-cost Things Indoor Gateway, Tektelic's Micro with 4G option, and Micro-Lite.

LoRaWAN Devices

Home and office environmental sensors. Temperature, humidity, room presence and activity, and CO₂.

We stock a range of sensors for all applications from Elsys, Tekelic, Talkpool and mcf88.

Monitor motion, desk and room occupancy, and door and window opening with our range of smart building sensors.

We stock a range of sensors for all applications from Tekelic, Elsys, Talkpool and mcf88.

Monitor outdoor temperature, humidity and particulates with our robust outdoor environmental sensors.

Our sensors from mcf88 are designed for long-term use, even in the harsh outdoors!

Development Tools

LoRaWAN development boards, including the Things Uno and Pi Supply Raspberry Pi, Arduino and micro:bit shields and HATs.

We also stock Otii by Qoitech, a great development tool for low-power hardware development.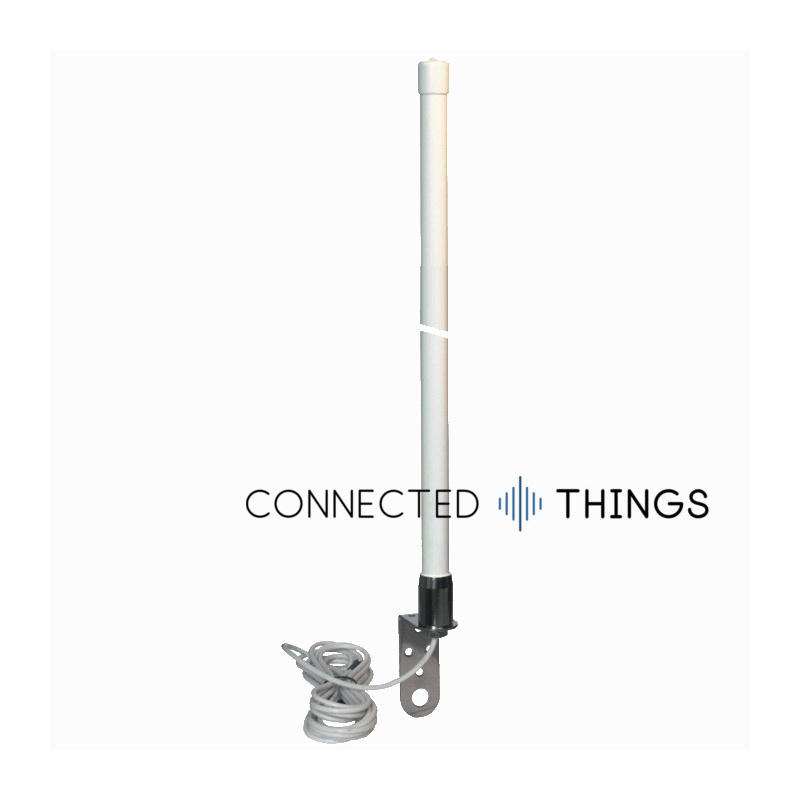  
Sirio OMNI 900 6 dBi Outdoor LoRa Gateway Antenna

We deliver globally via FedEx and hold stocks ready for immediate shipment
This top quality antenna from Sirio is sure to improve your gateway's performance!
At 1m long, this isn't a compact antenna, but it will give around 5dBi of gain at 868MHz and provides great performance for LoRa and GSM 900 applications.
This is an omni-directional, co-linear dipole array antenna, supplied with a fixing bracket to make installation a breeze. 5M of coax cable terminated in a male SMA connector is ready to connect directly to your LoRaWAN gateway or other 868MHz device.
 Specifications
Electrical Data
Type
3 x 1/2 λ Colinear Dipole Array
Frequency Range
868-960 MHz for GSM 900MHZ and ISM 868 systems
Impedance
50 Ω Unbalanced
3 dB Beamwidth Horizontal
H-plane 18°
Radiation Angle
5°
Polarization
Linear Vertical
Max gain
3.9 dBd - 6 dBi
V.S.W.R. in Bandwidth
≤2:1
Max Power
20 Watts (CW) @ 30° C
Grounding protection
All metal part are DC-grounded, the inner conductor shows a DC-short
Connector type
SMA-male
Cable length / type
5 m / white RG 58

Mechanical Data
Materials
Fiberglass, Chromed brass, PCB
Wind Load / Resistance
35 N @ 150 Km/h / 120 Km/h
Wind Surface
0.03 m2
Height (approx.)
1045 mm
Weight (approx.)
950 gr
Operating Temperature
-20° C to +80° C
About Sirio
For over 40 years Sirio has manufactured antennae from their site near Milan. Using the latest CNC machines antennae are produced and tested, according to their uncompromising ISO 9001:2008 quality system.