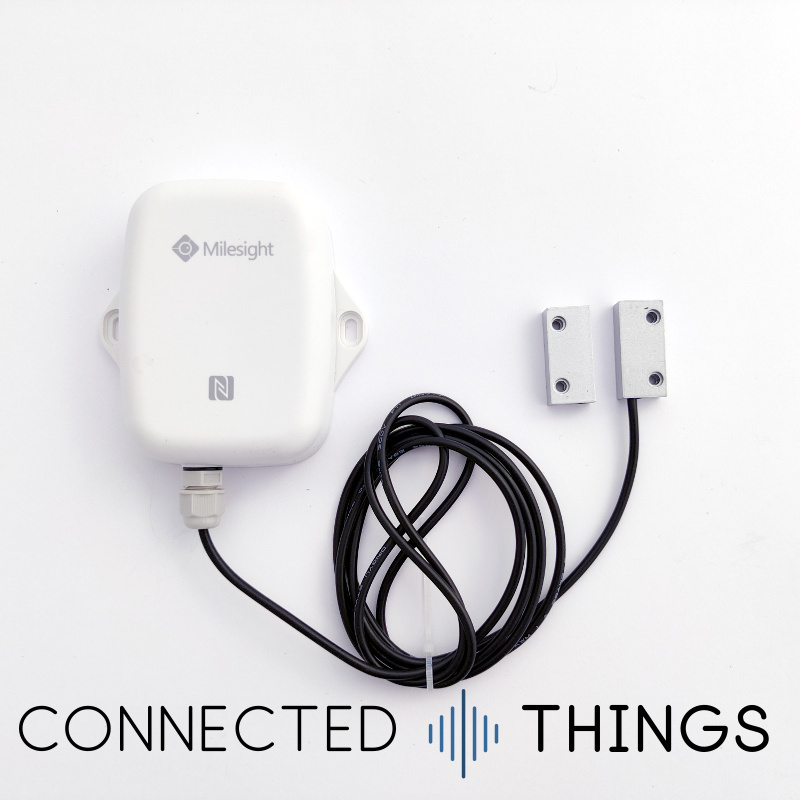  
Milesight EM300-MCS Magnetic Switch Sensor

We deliver globally via FedEx
Milesight EM300 Magnetic Switch Sensor
Milesight's EM300-MCS-868M is a robust magnetic switch sensor. Designed to monitor windows and doors, the sensor uses an external magnet and reed switch for flexible positioning.
EM300-MCS is ideal for use in home, commercial and industrial environments, and can be used to monitor entries and exits, bathroom occupancy and flow of people through buildings.
The unit is configurable via an NFC application to select different operational modes, including periodic sampling and threshold-based transmissions. The sensor measurement interval can be set for different periods, and in threshold mode upper and lower bounds can be set.
The unit is powered from one or two A-sized batteries. One A-cell is included and gives the unit a battery life of around five years. The sensor can be fitted with an additional battery for up to 10 years of battery life.
The sensors can be configured via NFC using Milesight's Android app. Milesight's Toolbox software for Windows also provides configuration and firmware updates using the sensor's internal USB-C connector.
Key Features:
EU868 LoRaWAN Band, with configurable LoRaWAN version
Pre-attached reed switch with magnet
Magnet detection range: 20-30mm for flexibility
Temperature range: -30°C to + 70°C
Temperature measurement accuracy: 0°C to + 70°C (+/- 0.3°C), -30°C to 0°C (+/- 0.6°C)
Temperature resolution: 0.1°C
Humidity range: 0% to 100% RH
Humidity measurement accuracy: 10% to 90% RH (+/- 3%), below 10% and above 90% RH (+/- 5%)
Humidity resolution: 0.5%
Powered by one 4000 mAh ER18505 Li-SOCL2 battery (extendable to two batteries)
Size: 88.5 × 85.3 × 27 mm
IP67 rated
Wall-mountable using mounting lugs