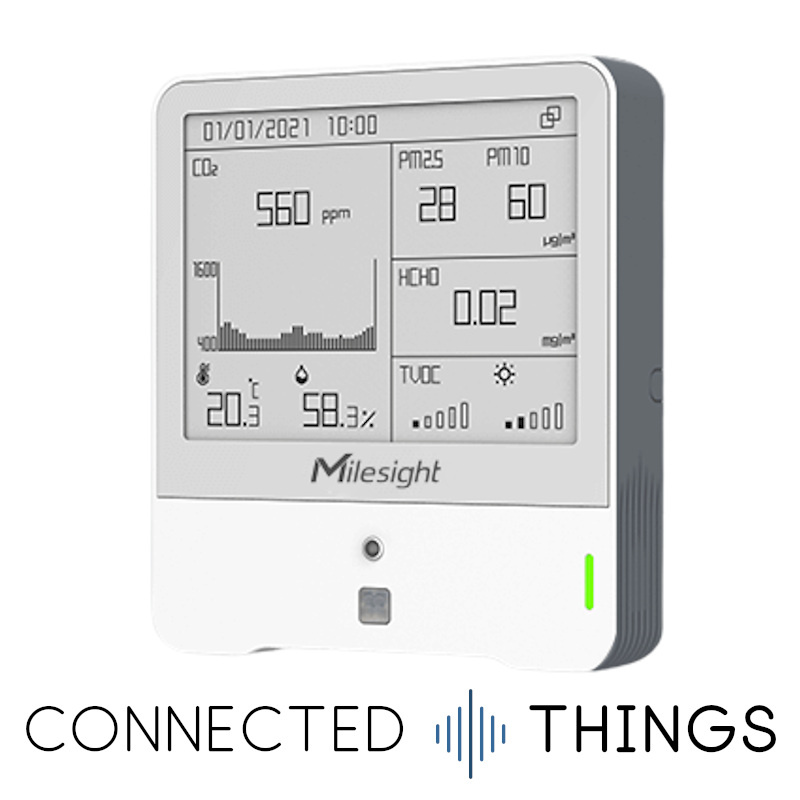  
Milesight AM319 Environmental, CO2, PM and HCHO sensor with display

We deliver globally via FedEx
Milesight AM319 CO2, Formaldehyde and Particulates Sensor with E-ink DIsplay
Milesight's AM319-868M-HCHO is a 9-in-1 multifunction device, featuring temperature, humidity and pressure, PIR, TVOC, light level, CO2, Formaldehyde and Particulate sensors, all in one neat package! The sensor features a large e-ink display, for continuous feedback to users, in addition to LoRaWAN backhaul.
The particulate matter sensors measure PM2.5 and PM10, picking up dust and pollution particles. The gas sensor measures Formaldehyde (HCHO) - now regarded as a risk to health. Formaldehyde is emitted by plastics, and used in cleaning chemicals and other industrial processes.
The unit wall mounted, and powered by USB-C. It is configurable via an NFC application to select different operational modes, including periodic sampling and threshold-based transmissions and display settings.
Key Features:
Class A EU868 LoRaWAN Band, with configurable LoRaWAN version
Temperature sensing: -40°C - 85°C, ± 1°C accuracy
Humidity sensing: 0% – 100% RH, ± 3% accuracy
PIR range; 5m
0-60000 Lux (display as 6 levels, 0-5)
TVOC sensing: 0-500 (IAQ Index)
Pressure sensing: 300 – 1100 hPa, ±0.6 hPa accuracy
CO2 sensing: 400 – 5000 ppm, ±30 ppm or ±3 % of reading
PM 2.5/10 sensing: 0 – 1000 μg/m3, with 0-100(±10μg/m3), 100-1000(±10 %) accuracy
Formaldehyde sensing: 0 – 6 mg/m3, accuracy 0-100(±10μg/m3), 100-1000(±10 %)
Powered by USB-C
4.2" e-ink display, with light and dark mode
Size: 100.8 × 114 × 22 mm
Power and reset buttons
LED indicator and buzzer