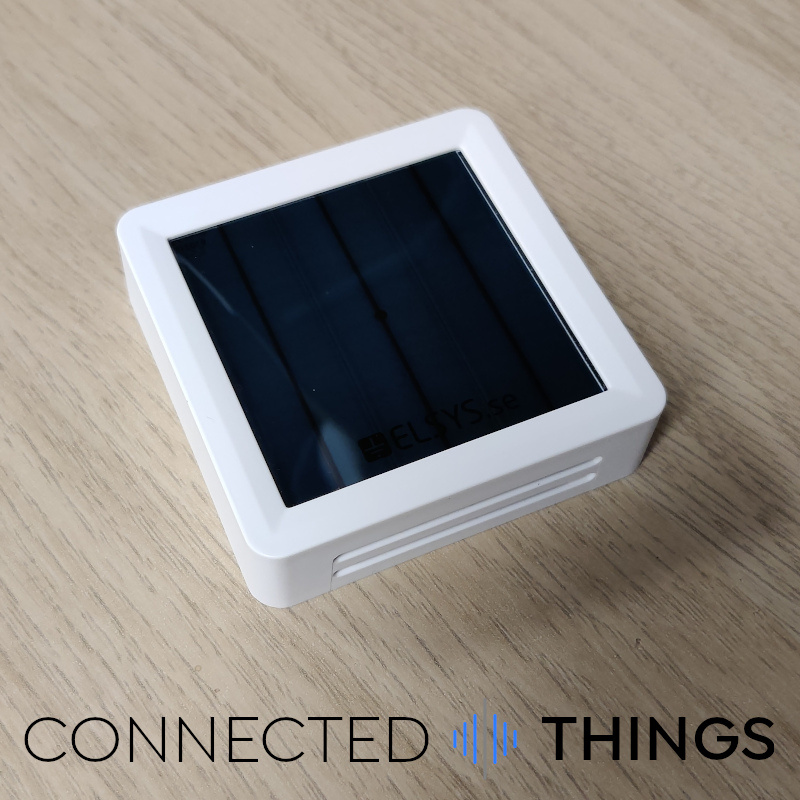  
Elsys ERS Eco

We deliver globally via FedEx
Elsys ERS Eco Smart Building Sensor
ERS Eco is Elsys' latest room sensor, designed for measuring temperature and humidity in homes, offices and smart buildings. The new ERS Eco sensors feature solar power, the build-in solar cell will run the sensor indefinitely - with no batteries!
The discrete sensor is designed to be wall mounted, ERS Eco is completely wireless. The solar cell and supercapacitor inside allow the sensor to charge in the day and run through the night. The sensor will even run for 30 days in the dark before a charge is needed. The solar cell is designed to provide enough power from normal home and office lighting, but the sensor also features a new power-saving feature that only sends data when the measured values have changed. This saves power and air time, reducing unnecessary traffic.
The device features sensors for measuring temperature and humidity. The reporting intervals can be set by a free Android app, or changed via LoRaWAN downlinks.
Elsys has designed this sensor with environmental concerns in mind - the enclosure is made of a Biodolomer, a biodegradable plastic. Eliminating the batteries helps to reduce e-waste, it also makes the sensor smaller and lighter for shipping.
Key Features:
LoRaWAN 1.0.4, RP002 Regional Parameters 1.0.3
Temperature sensor, accurate to 0.2°C
Humidity sensor, accurate to ± 2% RH
NFC for configuration
Configuration over the air
Compact 66 x 66 x 17 mm size
Weight of 50g
Applications:
Indoor environment measurement
Smart buildings
Workplace management
Home temperature and damp monitoring
More information and guides