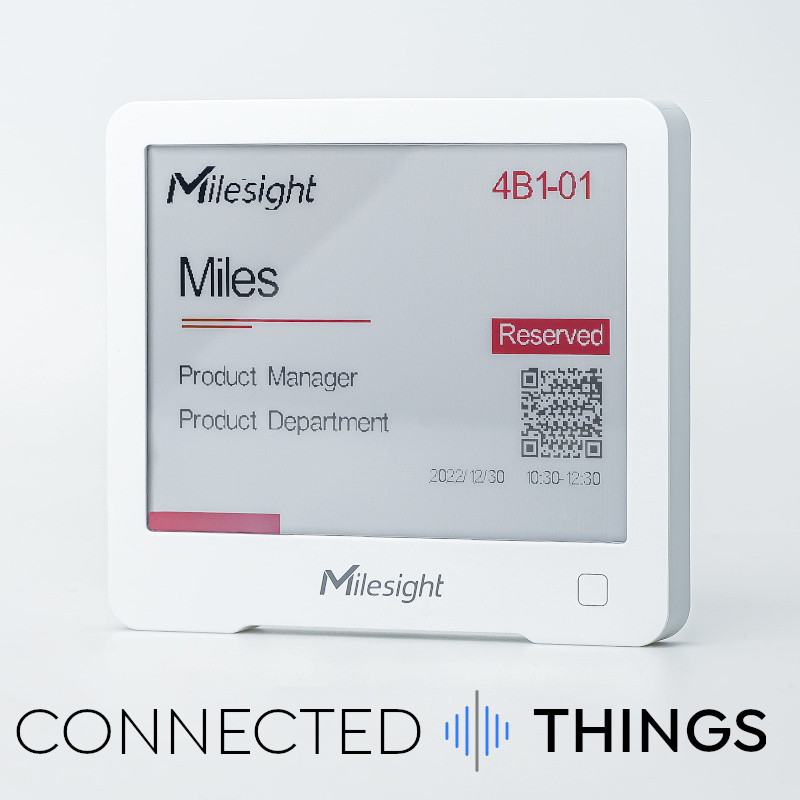  
Milesight DS3604 LoRaWAN E-ink Display

We deliver globally via FedEx
Milesight DS3604 LoRaWAN E-ink Display
LoRaWAN is not just for uplinks from sensors! With Milesight's DS3604 you can now send data back down to the real world to display to users on an easy to read E-ink display.
The DS3604 display is a compact unit with a large 4.2" black/white/red screen, with a resolution of 400x300 pixels for clear display of text, symbols, graphics or QR codes. The unit is battery powered, using three CR2450 coin cells, and gives a multi-year battery life. The battery life depends on the number of refreshes you perform as E-ink displays only consume power when refreshing the screen.
The compact unit is ideal for desk/meeting room booking displays, or used in retail and logistics for pricing or stock location information. It's small and light, and easy to mount using screws or double-sided tape.
The screen templates, including text fields, QR codes and images, can all be configured and set on the device using the Milesight Toolbox NFC app. Once the templates are loaded in, the contents of the fields can be changed using normal LoRaWAN downlinks. It's also possible to change template via downlink, so multiple screens can be set up and simply "flipped" from one to another.
The device also supports class B Multicast to allow group updates of many displays at once.
Key Features:
EU868 or IN865 LoRaWAN bands
4.2-inch Black & White & Red E-Ink Screen
400 x 300 Pixel resolution, 119 DPI
180° viewing angle and daylight readable
Button and buzzer for user feedback
IP30 indoot rated, 199 × 87 × 10.5 mm enclosure, screw or sticky tape mounting
3 × 590mAh CR2450 Lithium Batteries
Configuration by mobile using NFC
More information and guides