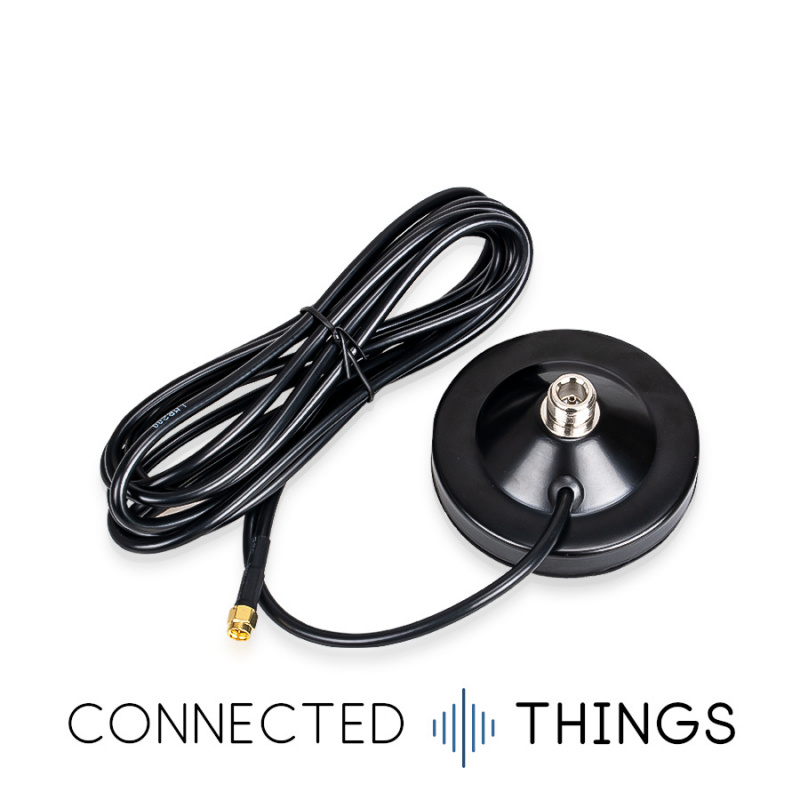  
RAK Indoor Antenna Magnetic Base

We deliver globally via FedEx
RAK Indoor LoRaWAN and Helium Antenna Base
RAK Wireless' Magnetic Antenna Base is designed to provide a stable base for their 5.8dBi antennae. The magnetic base makes it easy to mount it straight to a steel surface, like the top of a filing cabinet, comms/server rack or even your fridge!
The base is fitted with an N-Type Female connector on the top - which fits directly on to RAK antennae, and has a two-metre long cable with RP-SMA Male connector. This is designed to fit the RAK Helium Miner, and is also compatible with Seeed's SenseCAP M1 Miner.
You could also fit an 8dBi antenna to this base, but this isn't recommended as it probably won't be stable enough for that length of antenna. This base should only be used indoors, and isn't rated for outdoor use - it isn't waterproof.
Key Features:
Electrical Data
Frequency Range
DC0~6 GHz
Impedance
50 Ω
Cable length
2m
Cable type
LMR200
Connector type (top)
N-Type Female
Connector type (cable end)
RP-SMA Male

Mechanical Data
Dimensions
Փ88.0 mm x 27.5 mm
About RAK Wireless
RAK Wireless is a Chinese company developing advanced IoT technologies and pioneering products in the LoRa/Internet of Things (IoT) market with their developer modules/kits and LoRaWAN gateways.