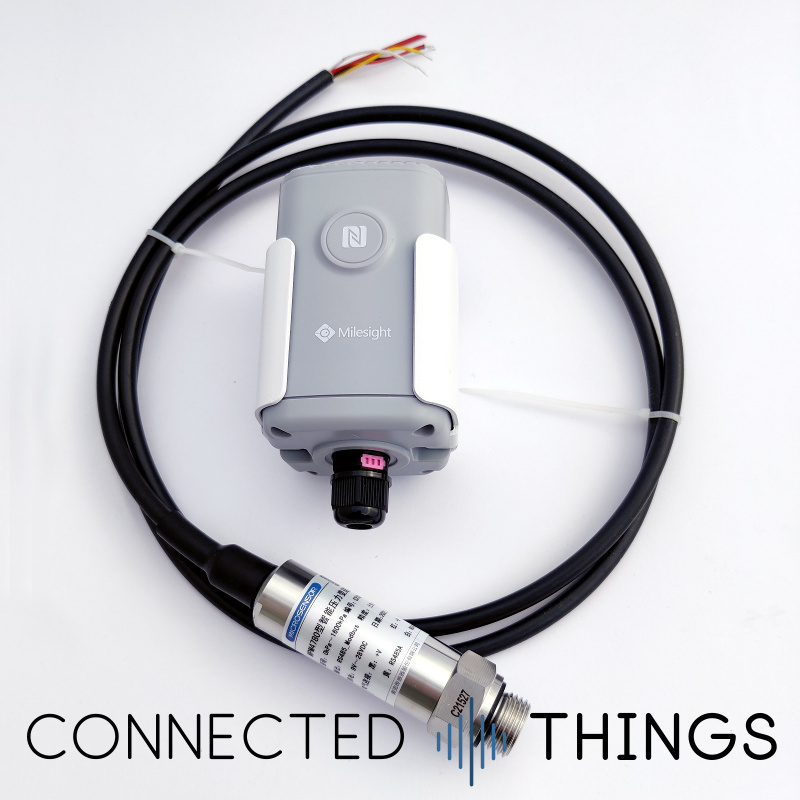  
Milesight Pipe Pressure Sensor 0 - 1600 kPa

We deliver globally via FedEx
Milesight EM500-PP Industrial Pipe Pressure Sensor
Milesight's EM500-PP is a robust, outdoor ready, pipe-pressure sensor. EM500-PP features a measurement range of 0 - 1600kPa (16 bar).
EM500-PP is ideal for a number of applications, including measuring pressure of pipe and tank pressures, detecting water leaks and monitoring pumps. The pressure probe's 1.5m cable allows for easy positioning of the main unit alongside pipework or tanks.
The sensor has a G 1/2" (British Standard Pipe Parallel) Male thread for connection to pipework. The sensor measures Guage Pressure, or pressure relative to atmospheric pressure.
EM500-PP is IP66 waterproof - making it ideal for use in manufacturing lines handling liquids, and food preparation areas. The sensor is supplied with a combination wall- or pole-mount bracket, with jubilee clip for pole mounting.
The unit is configurable via an NFC app for easy setup. The sensor measurement interval can be set for different periods, and with a large D-size battery included it can run for up to 10 years.
Key Features:
EU868 LoRaWAN Band
Pressure measurement: Guage Pressure
Pressure range: 0 - 1600 kPa (16 Bar)
Pressure resolution: 1 kPa (0.01 Bar)
Measurement accuracy: ± 0.5% FS
Fitting: G 1/2" Male
Sensor operating temperature range of -30°C to +70°C
Powered by D-size 19 Ah Li-SOCL2 battery (included)
Size: 156.1 × 71 × 69.5 mm
IP66 rated
Wall/pole mount bracket included