Band: US915
Helium Enabled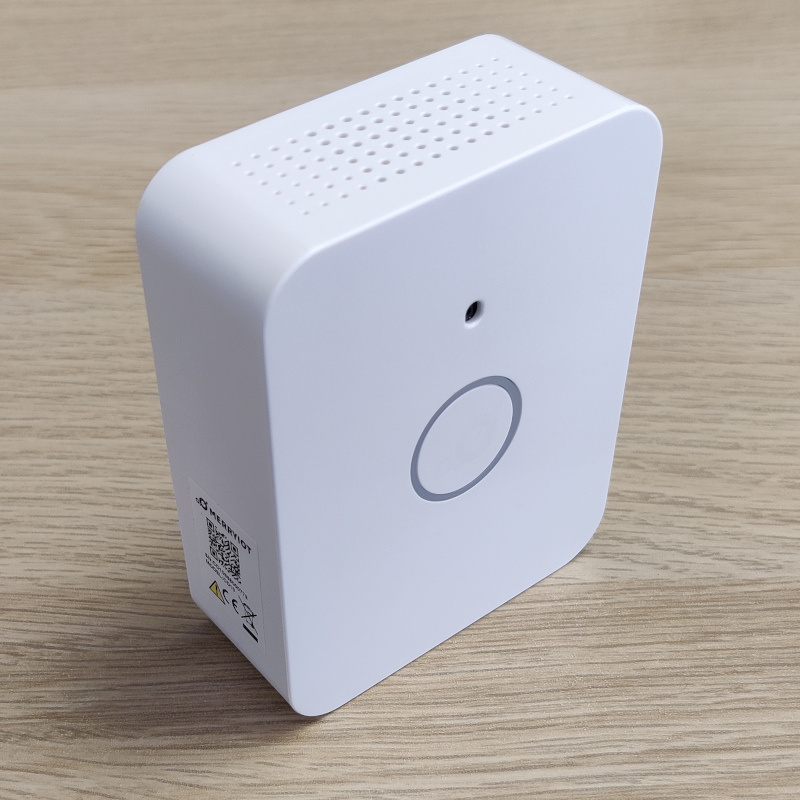  
Browan MerryIoT Air Quality CO2 Sensor US915 - Helium Enabled

We deliver globally via FedEx
Browan MerryIoT Air Quality CO2 Sensor - Helium Enabled
Browan's new MerryIoT range of LoRaWAN sensors includes this compact but high-performance CO2 sensor. The sensor measures Temperature, Humidity and CO2.
Using an NDIR (Nondispersive Infrared) CO2 sensor, the device gives very accurate CO2 readings. The sensor features red/yellow/green LED CO2 level indication, and includes a buzzer to warn users of high CO2 levels.
Cleverly, the LED indication is triggered when users wave a hand over the unit using a proximity detector. This reduces power usage so the included 3.6V Lithium batteries should power the sensor for around two years.
Product version
This version of the sensor is pre-configured with the MerryIoT app, this runs on Helium and includes three years of free Helium network service to get you up and running straight away!
The same sensor is also available supplied with LoRaWAN keys for use on any LoRaWAN Network Server. Buy that version to use the sensor on The Things Network, Loriot or on Helium using your own application. Get the keys version of the sensor here
Key Features:
Powered by 2x 3.6V AA Li-SOCl2 batteries (included)
Up to 34 months battery life
90mm x 70mm x 35mm size
LoRaWAN 1.0.3 - US915 band
CO2 measurement range: 400 ppm – 10000 ppm
Accuracy: ±(30 ppm + 3%)
LED Ring with Red/Yellow/Green color indicators
Temperature and Humidity measurement
IP40 indoor enclosure
Other MerryIoT Products
We stock other MerryIoT devices, including:
Door/Window sensors
Leak/flood sensors
Motion sensors
The Merry IoT Helium Miner
These are availabe in EU868 and US915 bands and supplied with keys or Helium-enabled, see all the MerryIoT devices here!