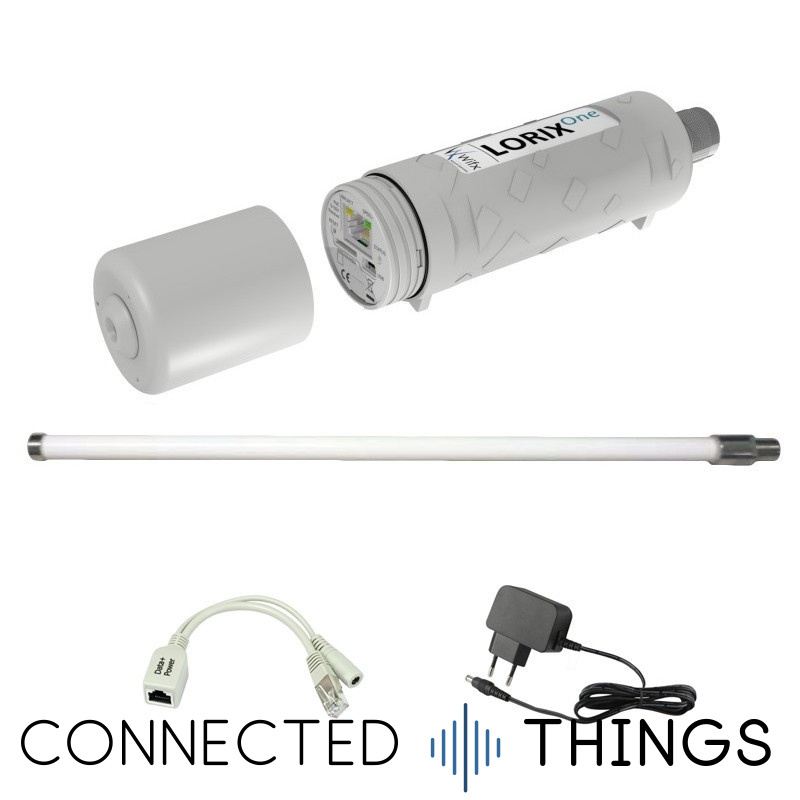  
LORIX One Outdoor LoRaWAN Gateway - US915
LORIX One is a high-quality, Swiss-made, outdoor LoRaWAN gateway. Featuring PoE and supplied with an outdoor antenna, it's a ready to go LoRa gateway designed for fast and easy installation.

We deliver globally via FedEx
LORIX One Outdoor LoRaWAN Gateway - US915
This is the US915 version for Canada and the USA, we also stock the EU868 version for Europe.
LORIX One is a small but powerful outdoor gateway. Though it's low-cost for an IP65-rated outdoor gateway, LORIX One is built with the quality you'd expect from a Swiss-made device.
LORIX One is supplied with everything you need to get up and running, including a 4.15dBi outdoor antenna that attaches to the N-connector on top of the gateway.  The kit also includes a passive Power-over-Ethernet injector, so only one cable needs to be run out to the gateway.
The unit is designed for quick mounting on a pole using cable ties, and optional pole/wall mounting brackets are available. The gateway is powered over Ethernet using the supplied passive PoE injector. Simply run cat 5/6 cable out to the gateway, pass it through the end cap and crimp on a connector, your wiring is complete!
Included in the box:
IP65 outdoor LORIX One gateway - US915 band
Outdoor antenna
Power-over-Ethernet injector
24V power supply, with global connectors
Cable ties for fixing
Optional Mounting Brackets
Wifx now provide optional mounting brackets for the LORIX One, you can add one to your order when you add the gateway to your basket.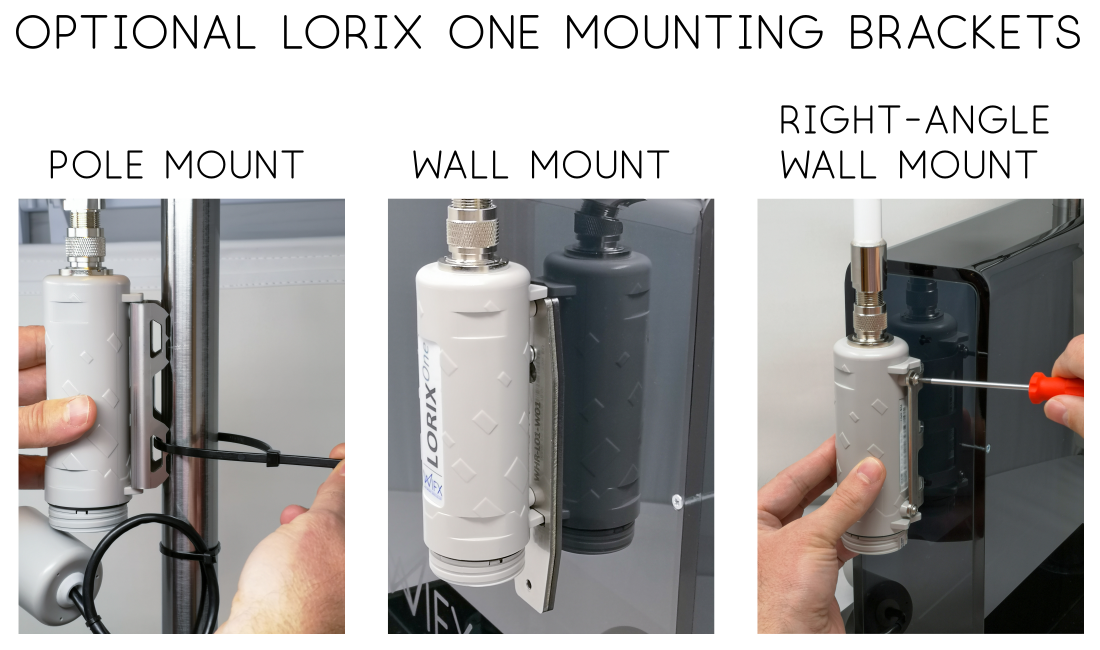 Configuration and network server support:
The LORIX One gateway can be configured for any network server via SSH or the web interface. By default the LORIX is configured for Loriot, but can be easily configured to use the Semtech packet forwarder standard which is supported by The Things Network and most other LoRaWAN network servers.
Wifx has recently launched LORIX OS which adds an easy to use GUI to the LORIX. More information is on the LORIX docs site.
The instructions (from the Attachments tab above) are excellent and guide you through the process. Some additional information is here:
The LORIX One wiki has all the setup and configuration information
It is possible to run the entire ChirpStack system directly on the LORIX One, making it an entirely self-contained LoRaWAN network-in-a-box!
It can be configured as a Semtech packet forwarder for other networks, we can pre-configure the gateway for you if you choose our Simple Setup Service when you purchase.
Simple Setup Service
The gateway features a command line interface to configure your LoRaWAN and network settings. We can also pre-configure the gateway for you as part of our simple set up service. If you buy your gateway using this option we'll get in touch to get the networking details from you and configure your unit before we ship it to you.
We can pre-configure the device to connect to the Things Network, or any other LoRaWAN network, as soon as you take it out of the box!