Back

All Products

LoRaWAN Gateways

Outdoor LoRaWAN gateways for the best possible LoRa coverage. Our range includes Tektelic's carrier-grade Macro, low-cost The Things Outdoor Gateway and the easily-installed LORIX One.

Indoor LoRaWAN gateways for quick and easy LoRa coverage. Our range includes the super-low-cost Things Indoor Gateway, Tektelic's Micro with 4G option, and Micro-Lite.

Dev Tools

LoRaWAN development boards, including the Things Uno and Pi Supply Raspberry Pi, Arduino and micro:bit shields and HATs.

We also stock Otii by Qoitech, a great development tool for low-power hardware development.
Filter By
LoRaWAN Gateways
Our LoRaWAN gateways get your IoT devices connected to the world. We are the UK distributor for LORIX One and TEKTELIC's Kona Micro and Pico LoRa gateways. We can pre-configure your gateway so it's ready to go as soon as you receive it, find out more about our Simple Setup Service.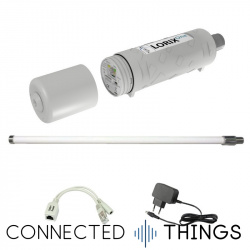 Price
$771.99
VAT included
$643.33 VAT excluded
Price
$564.47
VAT included
$470.39 VAT excluded